Change UNMS container port to only listen internally

Want to know how to change the UNMS container port so it only listens internally? Here's how.
Hi Folks,
This post will cover how you can change the UNMS port to only listen locally so that it is only reachable via proxy externally.

This image shows the output of sudo docker ps. As you can see the unms-nginx is only listening locally. In the default configuration it will listen on 0.0.0.0 which will include external as well.
In order to change this, there is a file available that stores this configuration: vi /home/unms/app/docker-compose.yml
Open this file with vim and go to nginx on line 193 there you can add the local IP: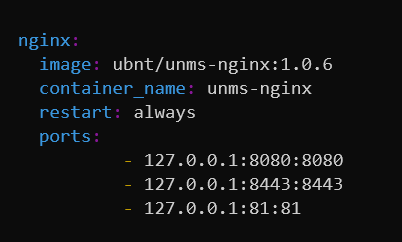 Just make sure that the IP is in front of the two ports. Otherwise the rebuild of the nginx container will fail.
As last step after saving you will need to restart the whole container environment: sudo ~unms/app/unms-cli restart
You can use this file also for setting a different port then once installed. The Installer will modify this file once on installation and will preserve changes when the update flag is used when installing a new version.
A sample config for a UNMS proxy can be found at this post.
Over and Out,
Aebian